Recent Events
Elbow Conclave 2019
12th Mar 2019

IBHI, in association with BESS and SESI, conducted an Elbow Conclave 2019 for the first time in India on 12th & 13th March, 2019. More than 300 delegates participated in this conclave held at MIOT International, Chennai. The British Elbow and Shoulder Society (BESS) Patient Care Pathways (Surgical Procedure Guidelines) was released for the first time in India by the British Deputy High Commissioner (Chennai), Mr. Jeremy Pilmore-Bedford. It was an event of many firsts, as IBHI – Elbow Conclave 2019 too is a first-of-its-kind event in our country.
Date & Venue
12th & 13th March, 2019Auditorium, MIOT International, Chennai
First 100 registrants will receive special edition compilation of BESS Shoulder & Elbow Guidelines for best practice, complementary, courtesy to BESS
This academic activity has been awarded 25 credit points under category III by the Tamil Nadu Dr. M.G.R. Medical University, Chennai, Tamil Nadu and 8 CME credit hours under Category I by the Tamil Nadu Medical Council.
Overview
Dear friend / colleague,
It is a great honour and privilege to invite you to Elbow Conclave 2019, a one-of-its-kind meet designed to help throw light on the most neglected joint in general orthopaedic practice. As a conclave of such magnitude taking place for the first time in India, it is bringing together some of the most distinguished minds from the orthopaedic fraternity in the UK and India under one roof.
They include the British Elbow and Shoulder Society (BESS) members led by its President, Mr. Peter Brownson, and our esteemed Shoulder and Elbow Society of India (SESI) members from across the country.
The agenda for this 2-day orthopaedic extravaganza includes invaluable discourses by the masters themselves, along with panel discussions, video presentations, live and re-live surgeries, a hands-on workshop and evidence based guidelines.
We sincerely hope Elbow Conclave 2019, with all its grandeur, turns out to be the most enlightening experience of your professional life.
We look forward to seeing you there.
With warm regards,
Dr. Prithvi Mohandas

Founder and Secretary – IBHI

Dr. Ram Chidambaram

Course Organizer & President – SESI
Event Highlights

Symposium
Video presentation
Evidence based guidelines
Hands on workshop

Fracture fixation
Total elbow replacement
Radial head replacement

Invited lectures
Panel discussion
Live & re-live surgery
Faculty
UK Faculty
Dr. Peter Brownson, President, BESS (UK), The Royal Liverpool and Broadgreen University Hospitals NHS Trust
Dr. Cormac Kelly, Robert Jones and Agnes Hunt Orthopaedic Hospital, Oswestry
Dr. Mark Simon Falworth, Royal National Orthopaedic Hospital NHS Trust, Stanmore
Dr. Vijay Bhalaik, Wirral University Teaching Hospital NHS Foundation Trust
Dr. Marcus Bateman, University Hospitals Derby & Burton NHS Foundation Trust
Dr. Anand Arya, King's College Hospital NHS Foundation Trust, London
Dr. Bhuvaneshwar Machani, Sandwell and West Birmingham Hospitals NHS Trust
Dr. Joideep Phadnis, Brighton and Sussex University Hospitals NHS Trust
National Faculty
Dr. Abheek Kar, Kolkata
Dr. Mahesh Krishnan, Thrissur
Dr. Abhijeet L Wahegaonkar, Pune
Dr. Mahesh Reddy, Bengaluru
Dr. Anil K Bhat, Manipal
Dr. Raghuveer Reddy, Hyderabad
Dr. C. Vijay Bose, Chennai
Dr. Raju Eswaran, New Delhi
Dr. Clement Joseph, Chennai
Dr. Ram Chidambaram, Chennai
Dr. Deepak Bhatia, Mumbai
Dr. Ram Prasad J, Chennai
Dr. G. Francis, Chennai
Dr. S. Arumugam, Chennai
Dr. Gopinathan P, Calicut
Dr. S. Chockalingam, Trichy
Dr. John T John, Kochi
Dr. Shreyash Gajjar, Mumbai
Dr. K. N. Subramaniam, Madurai
Dr. Sunil Gawaskar, Chennai
Dr. K. R. Prathap Kumar, Kochi
Dr. Thilak Jepegnanam, Vellore
Dr. Leonard Ponraj, Chennai
Chairpersons
Dr. A. Francis Roy, Tirunelveli
Dr. Nalli R Gopinath, Chennai
Dr. A. Pandiaselvan, Chennai
Dr. P. V. Jayasankar, Chennai
Dr. Aravindan Selvaraj, Chennai
Dr. R. Sivakumar, Madurai
Dr. C. Rex, Coimbatore
Dr. Ramakrishnan Subramani, Kollam
Dr. C. Sugavanam, Salem
Dr. Ravi Subramaniam, Chennai
Dr. Col Trevor Nair, Chennai
Dr. Ravikumar, Chennai
Dr. George Thomas, Chennai
Dr. Sajid Hussain, Trivandrum
K. Murali, Chennai
Dr. Sathish Devadoss, Madurai
Dr. K. Ramesh Babu, Chennai
Dr. Subair Khan, Chennai
Dr. K. Velmurugan, Chennai
Dr. V. Singaravadivelu, Chennai
Dr. M. Gulam Mohideen, Thanjavur
DAY 1 – 12th March 2019, Tuesday
TIME
TOPIC
SPEAKERS
07.30 – 08.00 am
Registration
08.00 – 09.00 am

Session 1 – Elbow Basics

Chairpersons: Dr. K. Ramesh Babu and Dr. V. Singaravadivelu

10 min
Anatomy and Biomechanics of the Elbow
Dr. K. N. Subramaniam
20 min
How I Examine the Elbow (Live Demo)
Dr. Ram Chidambaram
10 min
How to Read MRI / CT of the Elbow
Dr. G. Francis
10 min
Surgical Approaches to the Elbow
Dr. S. Chockalingam
10 min
Discussion

09.00 – 10.00 am

Session 2 – Elbow Arthroscopy

Chairpersons: Dr. Ravi Subramaniam and Dr. Subair Khan

8 min
Elbow Arthroscopy: Set Up & Portals
Dr. S. Arumugam
8 min
Arthroscopy in Sports Injuries: Current Update
Dr. Deepak Bhatia
8 min
Arthroscopic Osteocapsular Arthroplasty
Dr. Joideep Phadnis
8 min
Arthroscopy in Post-traumatic Stiffness
Dr. Anand Arya
8 min
Arthroscopy in LB & OCD – Tips and Techniques
Dr. Abhijeet L Wahegaonkar
8 min
Elbow Arthroscopy: Avoiding the Complications
Dr. Vijay Bhalaik
12 min
Discussion
10.00 – 10.45 am
Inauguration
10.45 – 11.00 am
Tea Break
11.00 – 12.00 pm

Live / Re-live Surgery 1

Moderators: Dr. Raju Eswaran, Dr. Leonard Ponraj

Dr. Joideep Phadnis / Dr. Ram Chidambaram
12.00 – 12.10 pm
Discussion

12.10 – 01.30 pm

Session 3 – Trauma

Chairpersons: Dr. George Thomas, Dr. A. Francis Roy and Dr. A. Pandiaselvan

8 min
Distal Humerus Fracture Fixation – Tips and Techniques
Dr. Cormac Kelly
8 min
Coronal Shear Fracture Management
Dr. Joideep Phadnis
8 min
Radial Head Fracture Fixation: Tips and Techniques
Dr. Anand Arya
8 min
Radial Head Replacement for Fractures
Dr. John T John
8 min
How I Manage Neglected Elbow Dislocation
Dr. Anil K Bhat
8 min
Coronoid Fractures Fixation: When and How?
Dr. Ram Chidambaram
8 min
Olecranon Fracture: Tips and Tricks
Dr. Joideep Phadnis
8 min
Open Release for Post-traumatic Stiffness – Column Approach
Dr. Anil K Bhat
26 min

Discussion

01.30 – 02.00 pm
Lunch
02.00 – 03.00 pm

Live / Re-live Surgery 2

Moderators: Dr. S. Chockalingam, Dr. Sunil Gawaskar

Dr. Ram Chidambaram

03.00 – 04.10 pm

Session 4 – Elbow Arthroplasty

Chairpersons: Dr. Ravikumar, Dr. R. Sivakumar and Dr. M. Gulam Mohideen

8 min
Elbow Replacement: Evolution and Indications
Dr. K. R. Prathap Kumar
8 min
Is Interposition Arthroplasty still an Option?
Dr. Bhuvaneshwar Machani
8 min
Principles of Total Elbow Replacement
Dr. Anand Arya
8 min
Total Elbow Replacement: Tips for Success
Dr. Anand Arya
8 min
Elbow Hemiarthroplasty for Fractures: A New Tool?
Dr. Joideep Phadnis
8 min
TER for Fractures: Indications and Procedure
Dr. Ram Chidambaram
8 min
RRevision TER – Plan and Strategy
Dr. Mark Simon Falworth
14 min
Discussion
04.10 – 04.25 pm
Tea Break

04.25 – 06.00 pm

Session 5 – Panel Discussion

Moderator: Dr. Ram Chidambaram

Panelists:

Dr. Mark Simon Falworth

Dr. Peter Brownson

Dr. Vijay Bhalaik

Dr. Anil K Bhat

Dr. Bhuvaneshwar Machani

Dr. Anand Arya

Dr. Abhijeet L Wahegaonkar

Dr. Joideep Phadnis

Dr. G. Francis

06.00 pm
Closure
DAY 2 – 13th March 2019, Wednesday
TIME
TOPIC
SPEAKERS
08.00 – 09.00 am

Session 6 – Trauma 2

Chairpersons: Dr. P. V. Jayasankar, Dr. Nalli R Gopinath and Dr. K. Velmurugan

8 min
How to Manage Neglected Monteggia Dislocation in an Adult?
Dr. Thilak Jepegnanam
8 min
How to Not Miss PLRI
Dr. Joideep Phadnis
8 min
Distal Biceps Rupture – How I Fix
Dr. Vijay Bhalaik
8 min
Distal Biceps Rupture – How I do Endoscopic Repair
Dr. Deepak Bhatia
8 min
Rehab of Injured Elbow – How to Get the Best Outcome
Dr. Marcus Bateman
8 min
Elbow Arthrodesis – Still Has a Role
Dr. Ram Prasad J
12 min
Discussion

09.00 – 10.00 am

Session 7 – BESS Guidelines
10 min
Elbow Arthroplasty
Dr. Peter Brownson
10 min
Frozen Shoulder
Dr. Vijay Bhalaik
10 min
Shoulder Instability
Dr. Peter Brownson
10 min
Shoulder Arthroplasty
Dr. Cormac Kelly
10 min
Prosthetic Joint Infection
Dr. Mark Simon Falworth
10 min
Tennis Elbow – Evidence for Various Treatments
Dr. Marcus Bateman
10.00 – 10.30 am

Panel Discussion on BESS Guidelines

Moderator: Dr. Ram Chidambaram

Panelists:

Dr. S. Chockalingam

Dr. K. N. Subramaniam

Dr. Raju Eswaran

Dr. K. R. Prathap Kumar

Dr. Raghuveer Reddy

Dr. Deepak Bhatia

Dr. Abheek Kar

10.30 – 10.45 am
Tea Break
10.45 – 11.00 am

Oration: 'It pays to look after the joint of love.'

Moderators: Dr. Col Trevor Nair and Dr. K. Murali

Dr. Anand Arya

11.00 – 12.00 pm

Session 8 – Video Techniques 1

Chairpersons: Dr. C. Sugavanam, Dr. Aravindan Selvaraj and Dr. C. Rex

8 min
PRP Injection for Tennis Elbow (Video)
Dr. Cormac Kelly
8 min
Arthroscopic Tennis Elbow Release (Video)
Dr. Gopinathan P
8 min
Open Tennis Elbow Release – How to Get it Right (Video)
Dr. Pankaj Ahire
8 min
Arthroscopic Release of Stiff Elbow (Video)
Dr. Raghuveer Reddy
8 min
Open Release of Stiff Elbow by Posterior Approach (Video)
Dr. Clement Joseph
8 min
Radial Head Replacement with LCL Repair (Video)
Dr. Abheek Kar
12 min
Discussion
12.00 – 01.30 pm

Live / Re-live Surgery 3

Moderators: Dr. C. Vijay Bose and Dr. Mahesh Reddy

Dr. Anand Arya / Dr. Ram Chidambaram
01.30 – 02.00 pm
Lunch

02.00 – 02.30 pm

Session 9 – Video Techniques 2

Chairpersons: Dr. Sajid Hussain, Dr. Ramakrishnan Subramani and Dr. Sathish Devadoss

8 min
Arthroscopy in Instability (Video)
Dr. Joideep Phadnis
8 min
Internal Brace Repair of MCL (Video)
Dr. Shreyash Gajjar
8 min
Cubital Tunnel Syndrome – Release or Reroute?
Dr. Bhuvaneshwar Machani
6 min
Discussion
02.30 – 03.30 pm

Live / Re-live Surgery 4

Moderators: Dr. Bhuvaneshwar Machani and Dr. Mahesh Krishnan

Dr. Ram Chidambaram
03.30 – 03.45 pm
Tea Break

03.45 – 06.00 pm

Session 10 – Hands-on Workshop (All Faculty)

Distal Humerus Fracture Fixation

Headless Screw Fixation
Radial Head Replacement
Total Elbow Replacement
06.00 pm
Closure
Online Registration Closed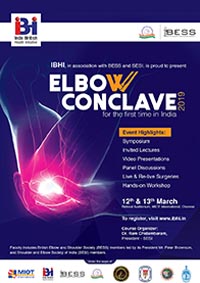 If you require more information we request you to call +91 77080 63651 / +91 44 4200 2288, Extn: 4128 or Email: secretary@ibhi.in